Nevena Komazec Dance Masterclass and FitnessBodyStar Workshop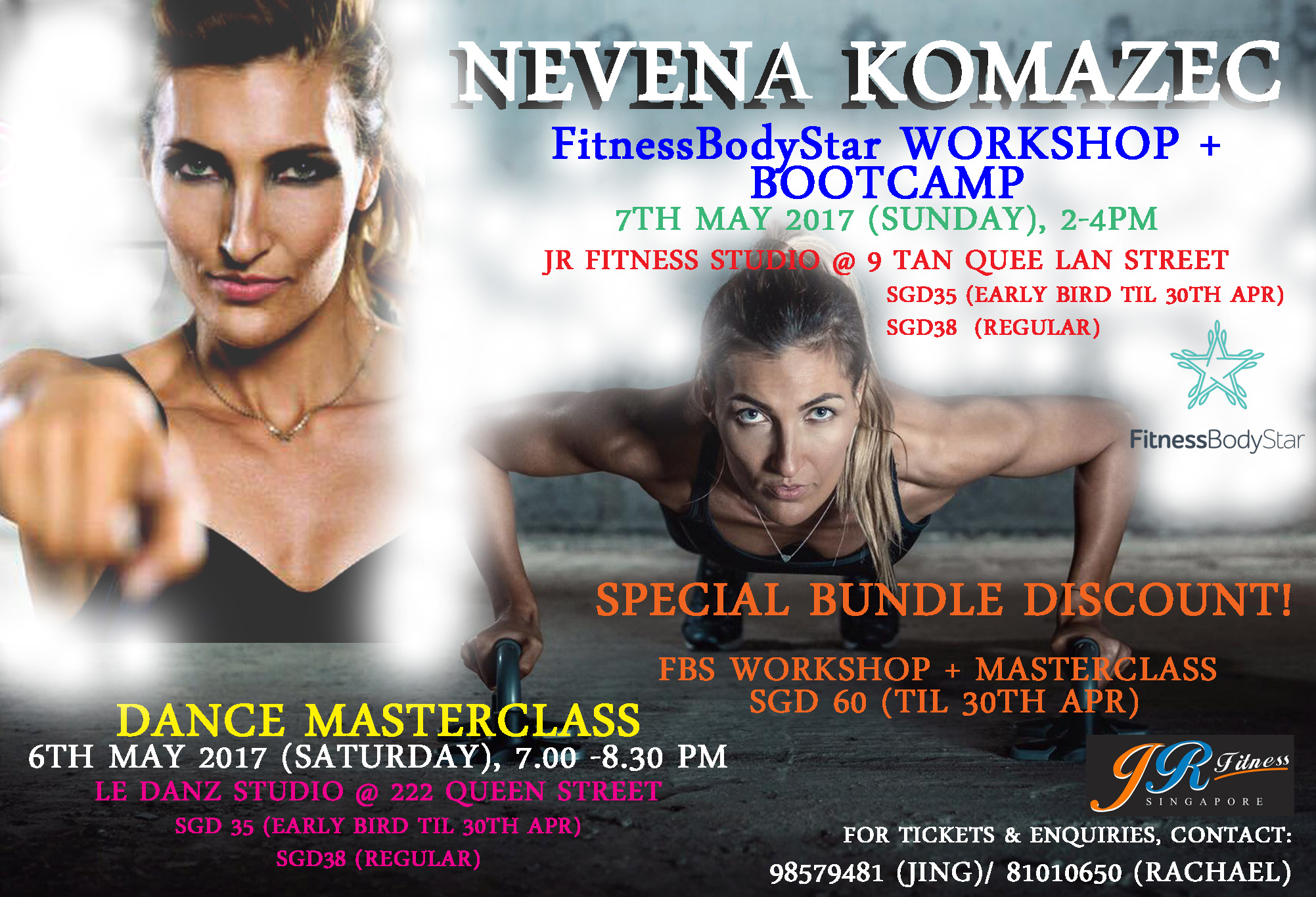 NEVENA KOMAZEC, from Serbia, is a known fitness icon and she will be coming back to Singapore this coming 6th May 2017 and this round she will be introducing her new fitness project called the "FitnessBodyStar".
NEVENA KOMAZEC is a dance fitness instructor and Personal Trainer. She had been in the dance fitness scene for many years, as a Zumba instructor and also Master Trainer for Salsation Fitness. She is the founder of FitnessBodyStar, a brand new online training platform focused on effective and smart training routines and promoting fitness as a lifestyle.
We are excited to have her back in Singapore to introduce FitnessBodyStar through a 2-hour interactive workshop which will include also a bootcamp sess…ion. More detailed description can be found below.
She will also be conducting a 90-mins Dance Masterclass bringing back to Singapore her famous positive energy, charisma and off course great beats and choreos! NOT TO BE MISSED!
For details of workshop and Masterclasss, kindly refer below:
DANCE MASTERCLASS
Date: 6th May 2017 (Saturday)
Time : 7.00 – 8.30 pm
Venue : Le Danz Studio @ 222 Queen Street
Price :
SGD 35 (Early bird before 30th April 2017)
SGD 38 (Regular)
FitnessBodyStar WORKSHOP AND BOOTCAMP
Date: 7th May 2017 (Sunday)
Time : 2 – 5pm
Venue : JR Fitness Studio
Price :
SGD 35 (Early bird before 30th April 2017)
SGD 38 (Regular)
**BUNDLE DISCOUNT UNTIL 30TH APRIL 2017!**
FitnessBodyStar WORKSHOP AND BOOTCAMP + Dance Masterclass
Price :
SGD 60
*Paypal charges apply for online booking.
What is FitnessBodyStar Fitness Workshop & Bootcamp?
FitnessBodyStar workshop is for EVERYONE – fitness instructors, fitness enthusiasts, beginners and all others who wish to hear a lot of useful & practical information and improve their knowledge about fitness lifestyle, proper training routines, balanced nutrition and get motivated to step up their fitness game.
This interactive workshop is followed by a full body workout with some of the best and most efficient exercises with special focus on learning the proper techniques.
What will you learn?
– What is Fitness Lifestyle all about?
– How to test my current fitness level?
– How to choose the best training for me?
– BE SMART. TRAIN SMART Philosophy
– Revealing most frequent questions, "secrets" and misconceptions about training:
– Weight Loss VS Fat Loss
– Truth about Abs
– Smart Nutrition Choices: Sustainable lifestyle VS Diets
– What can be considered as your optimal body weight?
– Most frequent training misconceptions
– Will weights get me too big?
– Express booty challenges – does it work?
FitnessBodyStar training system is created by Nevena Komazec herself and designed following the guidelines from world leading organizations in the field of Fitness (ASCM, NSCA, ACE, etc..), with a vision to help everybody to effectively and safely achieve their physical fitness goals.
JOIN US!
SHINE BRIGHT AND REALLY MAKE A DIFFERENCE!
For tickets or enquiries, kindly contact Jing(98579481) or Rachael(81010650).
NEW LES MILLS™ CLASSES LAUNCHING IN JANUARY 2017!!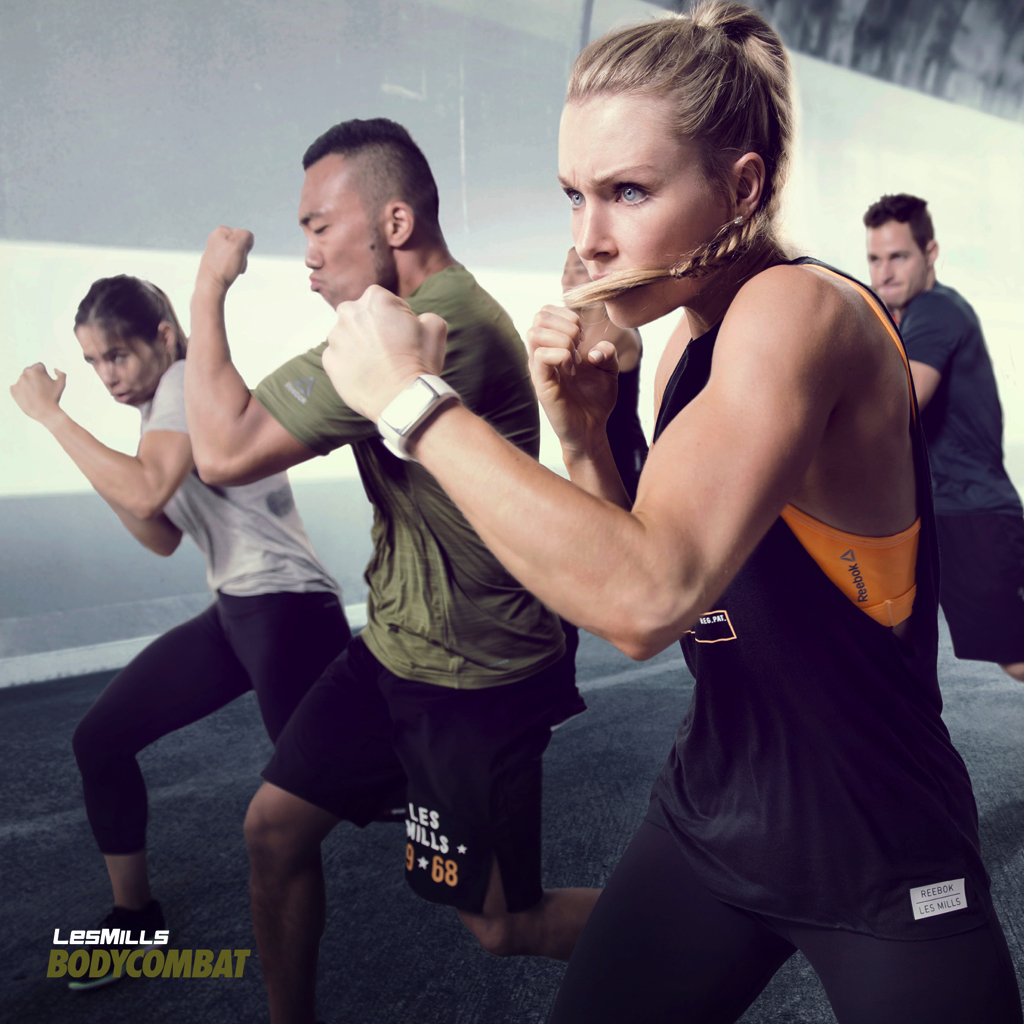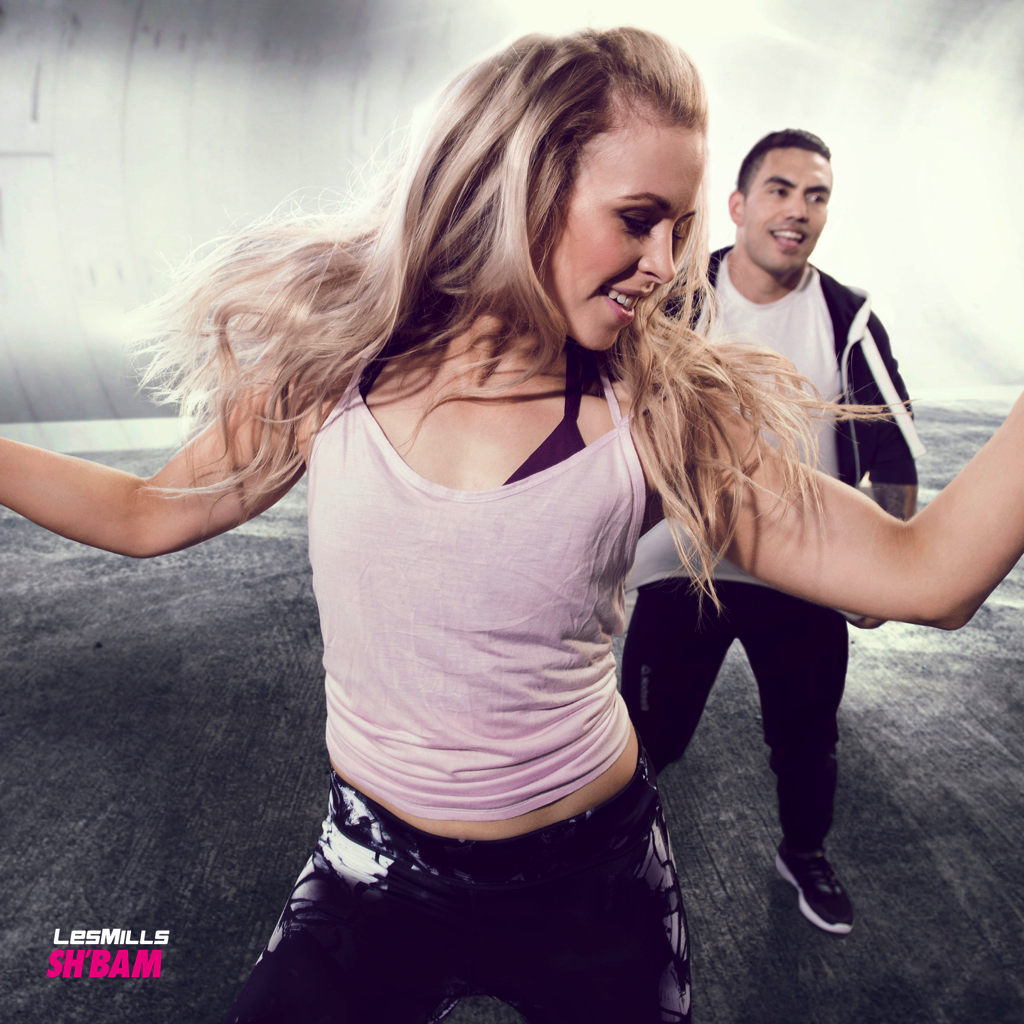 We are excited to announce the launch of our 2 new programs at JR Fitness Studio, BODYCOMBAT™ and SH'BAM™ by LES MILLS™. These 2 classes will be coming to you in January 2017.
What is BODYCOMBAT™?
BODYCOMBAT™ is a high-energy martial-inspired workout. You'll punch and kick your way to superior fitness and strength. It's totally non-contact and there are no complex moves to master. A LES MILLS™ instructor will challenge you to up the intensity and motivate you to make the most of every round. You'll release stress, have a blast and feel like a champ Check out video here
What is SH'BAM™?
A fun-loving, insanely addictive dance workout. SH'BAM™ is an ego-free zone- no dance experience required. Just bring a playful attitude, an open mind and a cheeky smile. Your instructor will guide you through simple (yet sassy) dance moves, all set to a party playlist. Check out video here