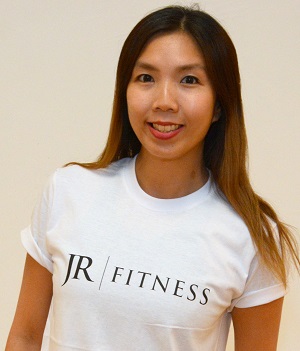 Jing
Studio Manager & Instructor
Jing is an AFAA and AEA certified group exercise instructor. She fell in love with Zumba and has become a Zumba instructor since 2014 teaching Zumba Fitness and other specialty programs such as Zumba Toning, Zumba Gold, Zumba Kids, Zumba Step and Aqua Zumba and Piloxing. She enjoys teaching and seeing her students smile and grow.
She believes that there is always a first time for everything and everyone. Her motto is "When there's a will, there's a way. Never give up."
Schedule:
Saturdays, 12.50-1.50 pm @ Bugis (Zumba Fitness + Zumba Toning)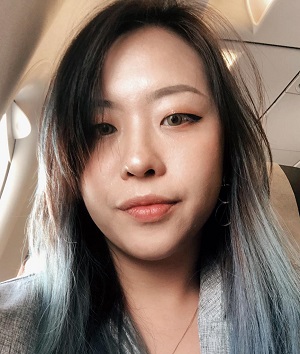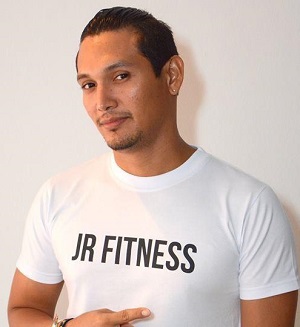 Elkin
Zumba Fitness Instructor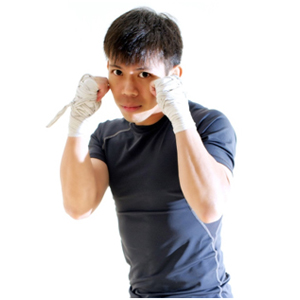 Lock Li
Les Mills BodyCombat and Yoga Instructor
Lock Li is an experienced instructor who started his teaching career since 2011. He teaches a variety of program such as BodyCombat, Piloxing, Kickboxing, Self defence, Yoga, TRX, BOSU, VIPR, circuit training. His Favorite Quote is "So, you wanna be a fighter? It's not how hard you hit or how fast you move. It's waking up earlier than the other guy. Training harder. Be the last one to switch off the gym lights." – UFC.
His Fitness Tip is Never stop pushing yourself. Some say 8 hours of sleep is enough, Why stop there? Why not 9? Why not 10? Strive for greatness. Do 15 pushups instead of 10.Run 3 miles instead of 2. Eat the whole cake instead of a slice.Do 15 pushups instead of 10. Burn your ex's house down. I believe in you.
Join him for a heart-pumping and adrenaline rushing Body Combat class.
Schedule:
Mondays, 5.50-6.50 pm @ Bugis
Sundays, 2.00-3.00pm @ Bugis (Fat Loss Yoga)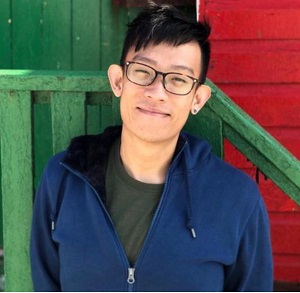 Wyatt
Les Mills BodyCombat Instructor
Working out and having fun can be two mutually exclusive elements when it comes to group exercise classes like BodyCombat. Wyatt believes in having the fun element in working out and using BodyCombat as his gateway to bring people of any levels of knowledge in sports together for an intensive and inclusive workout. Physical results are tedious to achieve but as long as one puts their heart and determination to commit to their own goals, Wyatt will be ready to bring his participants to the next level in terms of their fitness. It is the combination of fun and results that inspired Wyatt to be a BodyCombat instructor and he loves having like-minded people to engage with him about the program and even ask questions about techniques or how to enhance their experiences in BodyCombat classes.
Come join Wyatt for a crazy and intense BodyCombat class!
Schedule:
Saturdays, 11.40am-12.40 pm @ Novena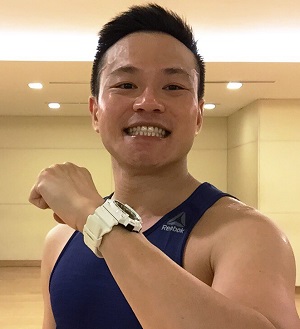 Stephen
Les Mills BodyCombat and BodyPump Instructor
p4 (LeStephen is a certified Les Mills BodyCombat instructor. He believes group fitness is one of the keys to unlocking the motivation in people to keep up with a fit and healthy lifestyle. As the quote says, "You can become even stronger by coming together." Stephen enjoys finding new ways to teach his classes in order to keep members engaged and motivated. During his free time, he enjoys reading to stay relevant, travelling to broaden the mind, and catching up with friends over a hot cup of coffee.
Schedule:
Tuesdays, 5.50-6.50 pm @ Bugis (Les Mills BodyCombat)
Wednesdays, 8.40-9.40pm @ Novena (Les Mills BodyPump)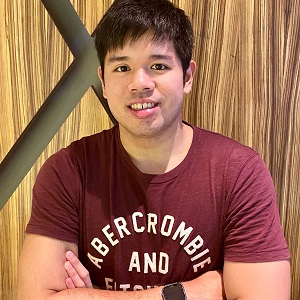 Albert
Les Mills BodyCombat and BodyPump Instructor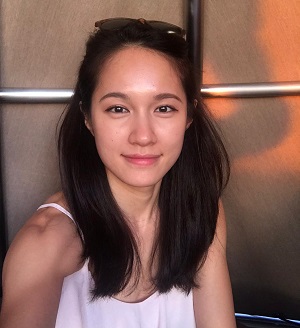 Tracce
Les Mills BodyCombat Instructor
5Loving the heart pumping adrenaline and positive energy during BodyCombat, Tracce is passionate for helping people of all ages and backgrounds to achieve their wellness and fitness related goals. "Let's sweat, smile and repeat!" is how she will keep you motivated throuht the 55 minutes workout. Tracce also believed that BodyCombat is a great channel to relieve stress, insecurities and negative emotions, through high intensity and power packed moves, inspired by a variety of martial art disciplines.
When she is not working out, she enjoys a good cup of kopi-o-kosong (black coffee), and cooking a good vegan meal.
Schedule:
Tuesdays, 9.20-10.20am @ Novena
Thursdays, 5.50-6.50pm@ Novena
Saturdays, 11.40am -12.40 pm @ Bugis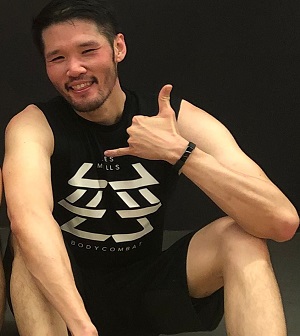 Pete
Les Mills BodyCombat Instructor
02Pete is a certified Les Mills BodyCombat instructor and recently completed his advanced certification. He has been involved with the fitness industry and mixed martial arts for the past 8 years with interest in Boxing and Muay Thai. He believes that everyone has the ability to achieve their fitness goals with group fitness and BodyCombat allows you to unleash your full potential. During his free time he enjoyes travelling, loves his two puppies and working on improving himself both physically and mentally.
Schedule:
Thursdays, 8.10-9.100pm @ City Hall
Fridays, 7.00-8.00 pm @ Bugis
Sundays, 9.20-10.20am @ Novena
Sundays, 2.00-3.00pm @ Novena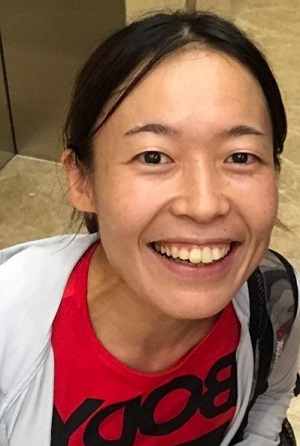 Ryoko
Les Mills BodyCombat and BodyPump Instructor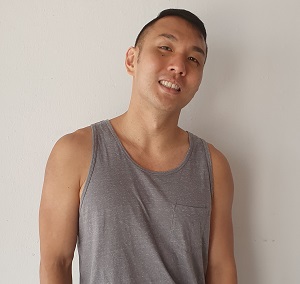 Kenneth
Les Mills BodyCombat Instructor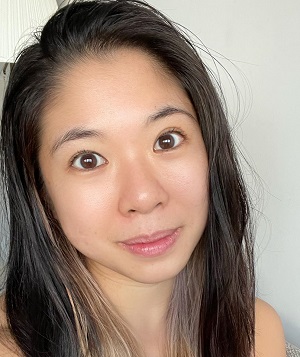 Jasmine
Les Mills BodyCombat Instructor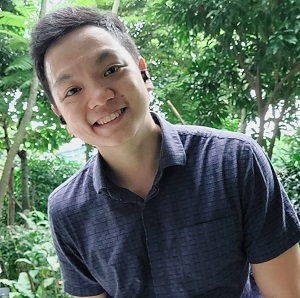 Ming
Les Mills BodyCombat Instructor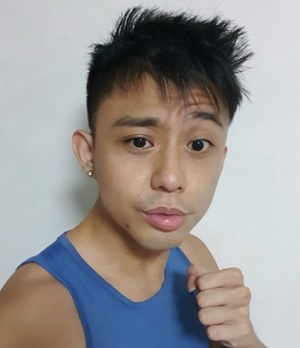 Lex
Les Mills BodyCombat Instructor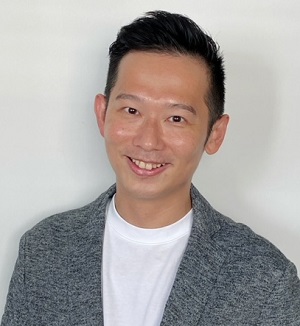 Mark
Les Mills BodyCombat Instructor
Mark is a certified Les Mills BodyCombat instructor and has been teaching since 2007.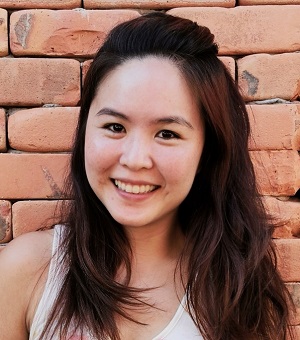 Cassandra
Les Mills BodyCombat Instructor
Cassandra is an avid believer that exercising is a natural mood booster, and inspires all to perspire. She brings her fun and infectious energy to each class, and encourages everyone of different fitness levels to turn it up. Other than group fitness, she loves being outdoors, exploring new things and learning about different cultures. Join her for a BodyCombat party, where you will leave feeling happy, stronger, fitter and shiok ah!
Schedule:
Sundays, 12.50-1.50pm @ Novena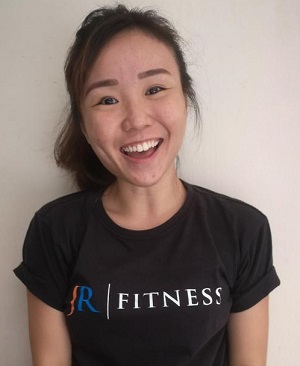 Charissa
Zumba Fitness & Zumba Toning Instructor
"My name is Charissa. I love to listen to music, singing and grooving to the beat. Zumba allows me to do all of that! Each Zumba class allows me to relieve stress, to exercise and most importantly, to have FUN! I look forward to meeting you and hope to give you an unforgettable Zumba experience".
Join Charissa on every Tuesday evening for a fun and intense Zumba Toning class!
Schedule:
Tuesdays, 8.10-9.10pm @ Bugis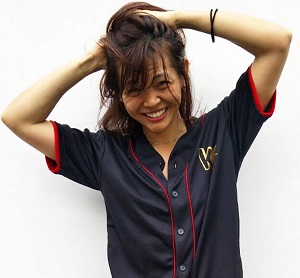 Charlotte Marie
Zumba Fitness, CardiMix, Dance and Les Mills Barre Instructor
a010Charlotte Marie started in the fitness industry on a similar yet different professional path as a sport science and physical educator working with kids. With sports and dance having always been in her veins, Charlotte went on to obtain her Zumba instructor license in Prague, Czech Republic in 2010. There was no turning back from thereon. Despite having no prior experience in dance, group fitness or aerobics whatsoever, she works hard in picking up what she can to ensure she can deliver her classes to high standards.
Aside from Zumba, Charlotte does other programmes such as Pound, HIIT, Kickboxing, Cardio freestyle dances (Hiphop, Latin, Kpop etc.) as well as dance choreographies for company events and shows.
A firm believer of being an agent of positivity, Charlotte brings to her classes raw vibrant energy, sincerity and pure fun simply because she can.
Schedule:
Mondays, 12.30-1.20pm @ Bugis (Les Mills Barre)
Wednesdays, 8.10-9.00pm @ Bugis (Les Mills Barre)
Wednesdays, 9.10-10.10pm @ Bugis (Dance class)
Fridays, 10.00-11.00pm@ Novena (Zumba +CardioMix)
Fridays, 9.20-10.20pm @ Bugis (Dance class)
Sundays, 11.40-12.40pm@ Bugis (Zumba +CardioMix)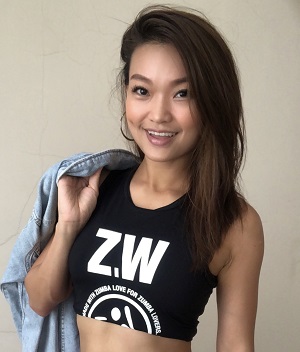 Charmaine Wong
Zumba Fitness and STRONG by Zumba
Charmaine Wong – Group Fitness & Dance Instructor, an advocate for perfection and a firm believer that happiness comes from living positively and healthily. She is a certified fitness and dance instructor with more than 8 years of experience in the fitness & dance industry, providing high quality & tailored fitness/dance training services. Group fitness instructor services (Circuit Training, Kickboxing, HiLo Aerobics, Cardio Latino, Beach Body Toning, Belly Dance, Exotic Dance).
An enthusiastic & energetic individual that leaded various mass workout events in Singapore – Amore Women's Day Out Event, Fitness First Mass Workout Events, etc. Flash-mob Choreographer/Dance Performer for company's event and weddings. Corporate Group Fitness Trainer, Jump Robe Coach for Singapore Heart Foundation, Fitness/Dance Trainer
for kindergarten, primary and secondary school kids. Resistance Band Trainer for the elderly at various community clubs in Singapore.
Featured in mainstream publications such as SHAPE, I-Weekly, Mind Your Body, Straits Times.
Fitness and dance have always been a passion in her life. In year 2012, she discovered her new love – Zumba Fitness. Reason of loving Zumba Fitness is simple: "Cause every class feels like a party!" she said. And the best part of her day is being able to inspire, motivate and bring big smiles on others face each and everyday!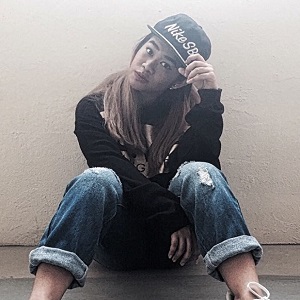 Nurul
Zumba Fitness Instructor
Nurul has been in the dancing scene, mainly Hip Hop since 2007. She came to know about Zumba in 2015 and started to build her passion in Zumba from then on. Being an adventurous person, she loves to experience and try new things as well as exploring different types of dance genres and fitness program. She believes in spreading happiness through Zumba by staying fit and happy. She looks forward to more learning and growing opportunities as a dance fitness instructor. Her life motto is "Dreams are passion, determination and hardwork. Just believe and make it happen!"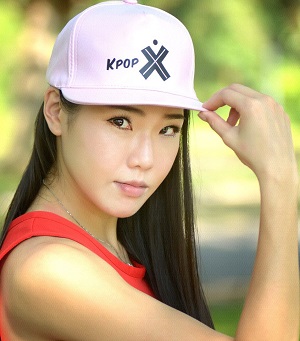 Alicia
KpopX Fitness Instructor
Alicia started dancing during her poly school days when she joined an artiste management company. She was trained to be versatile in all areas and developed a passion for dance since. By chance, she joined her first dance competition-POP Culture 2007 and her group emerged champion. Her dance group then joined the same competition two years later and won the first runner-up.
Alicia started her journey as a coach and dance fitness instructor back in 2013 when she took the Zumba and KpopX Fitness course. Alicia is an energetic and bubbly instructor with positive vibes who always make her class fun and interesting for both regulars and new comers.
Having participated in many performances on stage and on television, Alicia had gain lots of experience in different aspects. She was trained to be professional and being versatile. She believes that learning is a lifelong journey and constantly upgrades herself. She will strive towards her dreams of being a great dancer, one day inspiring others to dance as well.
Join Alicia for a 50-mins fun and high impact KpopX Fitness class that will definitely make you sweat and burn loads of calories from her class.
Schedule:
Wednesdays, 6.00-6.50pm @ City Hall
Sundays, 1.00-2.00pm @ Bugis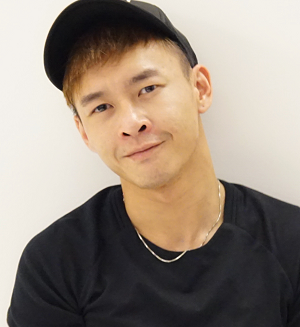 Jin
K-Kardio, CardioMix and Kpop Dance Instructor
Jin teaches K-pop dance, K-kardio, CardioMix and Zumba. A former instructor at California Fitness, he is also teaching he is passionate about dancing and has performed at several dance and stage productions. As an instructor, he brings flair, panache and style to his classes.
Come and learn some fun K-Kardio and CardioMix dances and choreographies with Jin on every Tuesday and Wednesday 8.10pm and Kpop Dance on Wednesday 9.20pm!
Schedule:
Tuesdays, 8.10-9.10pm @ City Hall (K-Kardio)
Wednesdays, 8.10-9.10pm @ City Hall (K-Kardio)
Wednesdays, 9.20-10.20pm @ City Hall (Kpop Dance)
Fridays, 8.10-9.10pm @ Novena (Kpop Dance)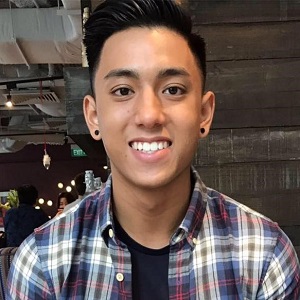 Kavin
Zumba Fitness Instructor
Kavin being our youngest Zumba instructor, is a talented dancer and Instructor. He has been actively involved in the Latin dance scene since 2014 and participated in local and international Latin dance competition. His interesting dance moves, choreos and clear dance instructions progresses his students and make them come back for more. His favourite line is "What seems hard now will someday be your warmup". Join Kavin Friday 12.30-1.30 pm for a fun and unforgettable Zumba Fitness class!
Schedule:
Mondays, 7.00-8.00pm @ City Hall
Tuesdays, 12.30-1.30pm @ City Hall
Thursdays, 8.10-9.10pm @ Novena
Saturdays, 10.30-11.30am @ Bugis
Sundays, 11.40am-12.40pm @ Novena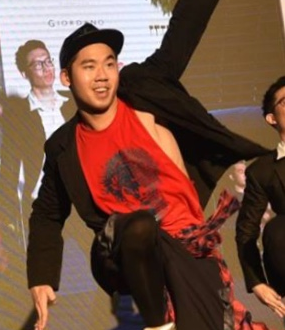 Jarren
Zumba Fitness and Zumba Toning Instructor
Jarren is no stranger to the dancing community. At the age of 10, he started competing in ballroom dancing, representing Singapore in almost every category. In 2012, Jarren was ranked number one in the junior-under 16 category in all of Singapore. However, his dancing career did not stop there. At age 24, while he still loved dancing and competing in ballroom dance, he took up the Zumba Instructor course and started his teaching career in Zumba. Jarren is a certified Zumba Fitness, Zumba Toning and KpopX Fitness Instructor.
He takes pride in giving the best energy in every of his classes. A session with him will guarantee lots of sweat and fun!
When asked why he wanted to teach dance or dance fitness?
He replied " I was born to dance, I cannot see myself doing anything else in my life besides dancing. I want to make a difference and share the gift of dance to the world. Even if I bring a smile to the faces of my participants, I am happy"
Schedule:
Mondays, 7.00-8.00pm @ Bugis
Mondays, 8.10-9.10pm @ Bugis (Zumba Toning)
Wednesdays, 12.30-1.30pm @ City Hall
Fridays, 5.50-6.50pm @ City Hall (Zumba Toning)
Fridays, 8.10-9.10pm @ City Hall
Saturdays, 10.30-11.30am @ Novena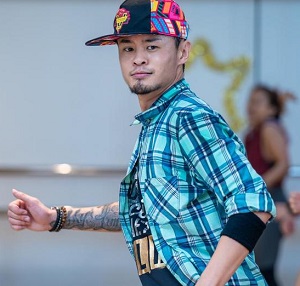 Aaron
Zumba Fitness Instructor
This man needs no introduction. Aaron has always been good at one thing, dance. Starting at the age of 12, he rose through the juvenile and junior ranks and has now become one of the most prominent male Latin dancers in Singapore.
In 2013, he became a zumba fitness instructor. Coached by ZES David Velez and ZES Michael Thomas and further mentored by Shannon Lupian, founder of local fitness company, Fiesta Fitness.
Aaron goes by the mantra, "Anybody can dance as well as they want to, I never believed in the term, two left feet". He wants to help all his participants keep fit and have massive fun all at the same time!
Schedule:
Tuesdays, 5.50-6.50pm @ City Hall
Wednesdays, 10.30-11.30am @ Novena
Thursdays, 12.30-1.30pm @ City Hall
Fridays, 7.00-8.00pm @ Novena
Saturdays, 3.10-4.10am @ Novena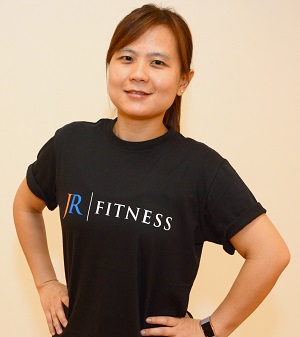 Liany
Zumba Fitness & Zumba Toning Instructor
Liany attended her first Zumba class in Dec 2015 and she was hooked since then. She has then become an avid Zumba enthusiast that she obtained her Zumba Instructor certification in 2017.
"I LOVE how Zumba always makes me happy! It is such a fun workout that can help to release stress, work the mind and most importantly lost weight in a fun and healthy way. They call it exercise in disguise!
Schedule:
Fridays, 8.10-9.10pm @ Bugis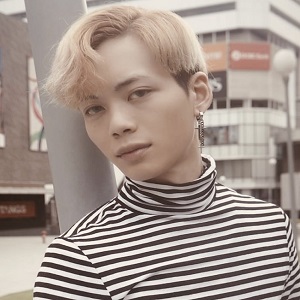 McCoy
Kpop Dance Instructor
McCoy is currently a KPOP dance instructor and coach for multiple organizations, as well as being an event organizer for KPOP related events. Being very easy-going, he always loves to add elements of fun and craziness into his classes, as well as instilling techniques and the 'Stardom' that KPOP artists portray.
He is also an active individual in the arts scene, having studied Fine Arts and participating in countless different creative events for 11 years. No matter how many stages he had been on from the first day, he believes in the growth of an individual and the team being his goal, and to have fun in everything he does with everyone he meets.
"If you make a mistake, rock it!"- McCoy
Schedule:
Tuesdays, 8.10-9.10pm @ Bugis
Thursdays, 8.10-9.10pm @ Bugis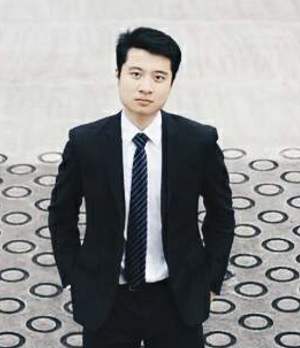 Ashton
Kpop Dance Instructor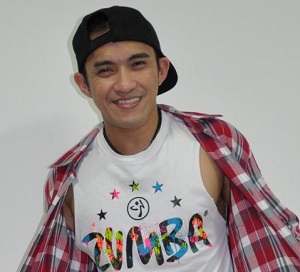 Christian
Zumba Instructor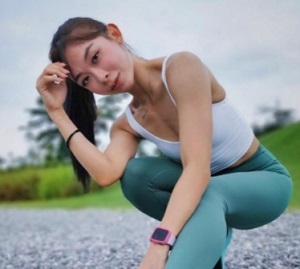 Jeslyn
K-Kardio Dance Instructor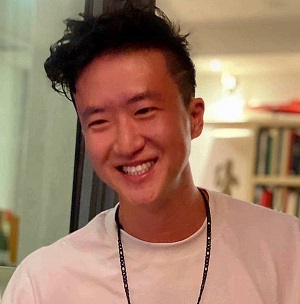 Jeffrey
Zumba and Piloxing Instructor
Dana
Les Mills Barre Instructor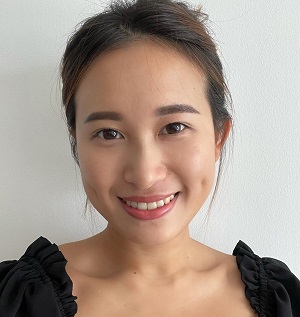 Elle
Les Mills Barre Instructor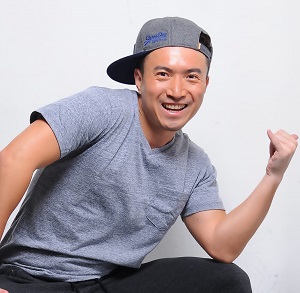 Ben Ning
Les Mills BODYJAM and LM Barre Instructor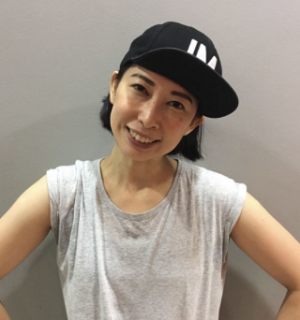 Vivi Kusuma
Les Mills BODYJAM and LM Barre Instructor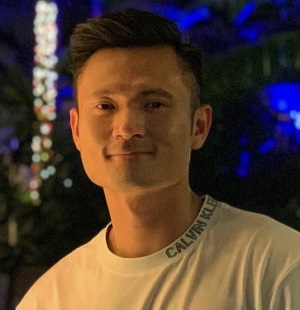 Lucas
Les Mills BODYJAM Instructor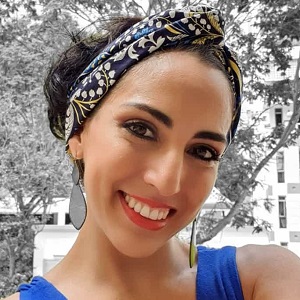 Lorena
Zumba Fitness Instructor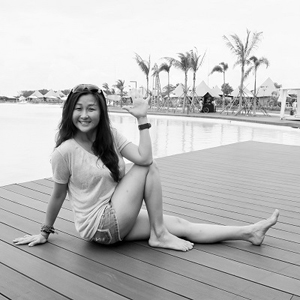 Gwen Teo
Yoga Instructor
Gwen, who is our certified Yoga instructor has always had an active lifestyle, even when she had to juggle motherhood, full-time work and cope with the challenges of a modern woman. She worked hard for more than a decade in the fast-paced and stressful travel industry, before moving on to the health and wellness sector, managing a physio clinic for 5 years. An avid runner, she turned to running as a way to de-stress and keep healthy. However, upon sustaining injuries from her running, she realized she needed a more balanced approach to health and fitness. Her first yoga experience convinced her that yoga is what she needed to achieve that balance, to be healthy both inside and out.
Join Gwen for a unique Yoga experience on:
Schedule:
Tuesdays, 5.50-6.50am @ Novena (Hatha Yoga)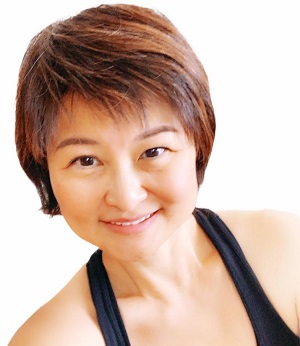 Susan
Pilates Instructor
Susan's first foray into Pilates began when she was plagued by several sports related injuries many years ago. In trying to find a solution and relief from these aliments, she took a leap of faith and decided to give Pilates a go. This is when she fell in love with Pilates and has since been a passionate advocate. With Pilates, not only had her injuries diminished significantly,she also discovered the numerous benefits of keeping fit thru Pilates, which includes improvements in strength, mobility and flexibility.
Having benefited directly from Pilates, Susan decided to take the journey into becoming a fully certified Pilates Instructor to further her knowledge and skills to help others. Susan's forte is targeted specifically for people with Diastasis Recti, Scoliosis and other recovering/injuries.
As a stronger believer in healthy living, Susan peruses the art and craft of Pilates with passion and dedication bar none. Her many good reviews and references from current
clients are testament to this fact. Lastly, as Pilates is an ever evolving fitness system with many new developments and teaching techniques, Susan is always updated and updating herself constantly (thru professional certification) to keep abreast of the latest in this field.
Schedule:
Sundays, 10.30-11.30am @ Bugis 

Keen to join us as a freelance instructor?
Kindly email us your CV and certificates at
info@jrfitness.com.sg
.